Its the P-H-Y-S-I-C-S…aka The Physics
Get Familiar
Their debut album "Future Talk" was one of my favorite releases last year (any genre, any town) and stays in heavy rotation. Spring/summertime will bring more spins of this record for its cool-out, crack a brew, holler at the ladies, backyard cookout vibe.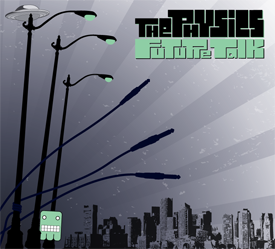 MC Thig Natural possesses such a great combination of infectious flow, intricate wordplay and effortless delivery that "rewind that" will become a regular part of your vocabulary. Producer/MC Just D'amato builds some seriously soulful beats that put you in a good mood all by themselves, and holds it down on the mic as well.
This record should be available at local retailers and I highly recommend you go buy yourself a copy. If they don't have it, tell them to get it. Do it for yourself. Do it for the kids. Do it for the town.